De la Crema
Quality milk based products
from the best of the cream.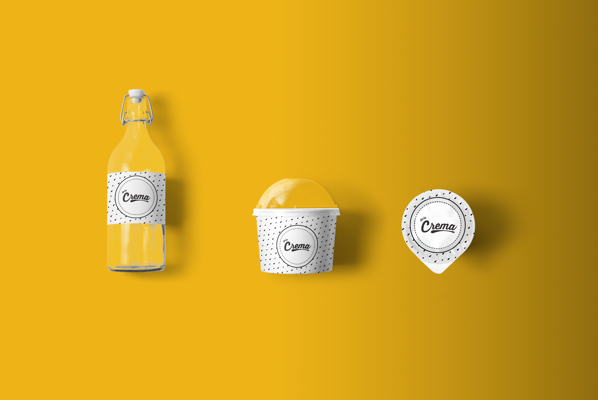 Project Types
branding
product packaging
Year
I was approached by the Torrados from Hatillo Novalact Inc. because they had started developing a line of quality milk derivatives and they needed to settle on a name and develop the brand identity. This caught my attention as it would be a great opportunity to work with the conception of a complete branding system as well as develop a new brand from scratch. Naturally, I said yes.
We crafted a design brief, discussed the competition, market, desired clients, brand tone and a series of precedents of what we thought the brand could be and should not be like. But we still hadn't settled on a name.
The Name
We sent a couple of potential names for the products to a number of close friends. De La Crema, stood out as the favorite. The name speaks of the quality they strive for with their products, as the cream is the best part of the milk. Also is used as a common saying to express the unique quality of an individual: "crème de la crème" which literally translates to cream of the cream.
The Mark
Two options were presented to the Torrados at first. None of which sparked real interest from them. I decided to go a totally different route with a more caligraphic approach to the brand, using type that flowed like cream. Simple and robust, the use black and white was there from the start.

The Product Packaging
Three products needed a package and label designed. A Clandestino —clandestine— cheese, a guayaba greek yogurt, and a coconut greek yogurt.
The concept for the product packaging line came along with some experimentation with ink, watercolors, and oil paint. Using the flowing qualities of the paints and inks I created backgrounds for the packages and labels. A certain sloppiness was desired, balancing the image of a quality product coming from a very small company.